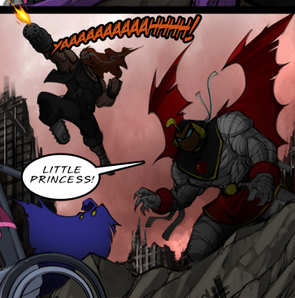 The Uderfist is a group of heroes that appear in Grim Tales and Powerpuff Girls Doujinshi.
Powerpuff Girls Doujinshi
Edit
Skarr is the principal of the Megaville Elementary.
The Grim Tales From Down Below
Edit
Jeff the Spider is the father figure of Mimi, but got killed by Him after his betrayal.
Hoss and Irwin appeared later in the worst memory of Mimi fighting a giant golem to save Mimi and Jeff.
Fred made a few random cameo appearances in the comic.
Underfist is a spin-off special of The Grim Adventures of Billy & Mandy. It aired on October 12, 2008. It tied as the number 1 program for the week among all broadcast and basic cable networks with boys 6-11, and earned between 19% and 76% growth across all kid demos. The special was going to be the plot for a new series spin-off of Billy and Mandy, but the contract of Maxwell Attoms in Cartoon Network expired and the special was the finale of Grim Adventures.